Kolme Venna Villa Guesthouse
Kolme Venna Villa is located in the delightful downtown of Pärnu. It's surrounded by cozy coffees and boutiques, only 10 minutes away from the beach. The guesthouse has two apartments which are suitable for families or small groups. On the first floor there are three bedrooms, living room and a spacious kitchen. Windows open to the garden. The apartment includes a large terrace where you can relax and enjoy a cup of coffee. The area is 100 m2 large, being suitable for maximum 6+2 people. On the second floor there is a romantic studio-apartment with two bedrooms, that accommodates 4+1 people. The area is 70 m2 large.
Plan of the first apartment & prices
Big apartment (first floor) Fits 6+2 people 1-3 days 189€ night/day 4-6 days 159€ night/day 7-… days 139€ night/day
Plan of the second apartment & prices
Small apartment(second floor) Fits 4+1 people 1-3 days 140€ night/day 4-6 days 120€ night/day 7-…days 95€ night/day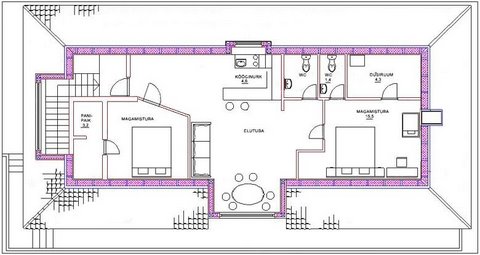 Parking
Near to the guesthouse are public parking spaces (previous booking is not necessary), but they can be taxed.
Contact
Address: Uus 10 Pärnu Pärnumaa Estonia Phone: +372 5202422 E-mail: info@polarisparts.ee
Contact us!